By Jae (@thedeathmaster)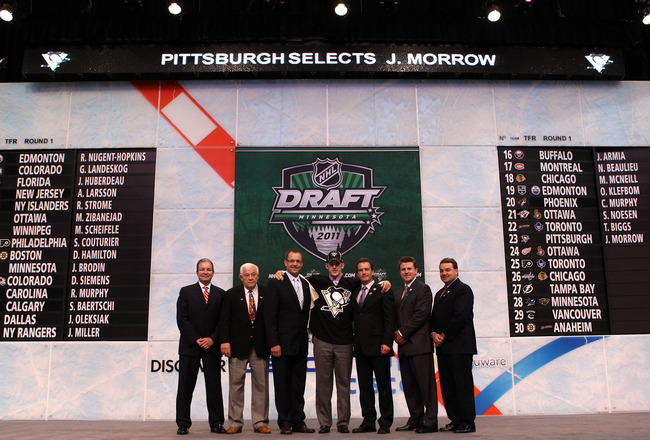 A year ago, D-Man Joseph Marrow (@JMorrow7) was drafted by the Pittsburgh Penguins 23rd Overall in Round 1 of the 2011 NHL Entry Draft. Joe had an impressive Training Camp and an outstanding Pre-Season with the Pens, but ultimately wasn't offered a full Contract and was sent back to the WHL to continue playing with his team, the Portland Winterhawks. Now, since Pittsburgh 2011-2012 Season has come to an end, I felt it was time to revisit one of our most promising draft picks, and bring some of those who don't know Joe, up to speed.
Joe was born on December 9th, 1992 in Sherwood Park, AB, CAN. He has played a total of 227 Games in the WHL and has a career total of 33 Goals, 118 Assists, and 251 PIMS. Joe also has also played 45 Playoff Games and has 8 Goals, 23 Assists and 49 PIMS. These playoff Stats currently are Subject to Change as Joe, and the Portland Winterhawks, are still playing in the Post Season. The Winterhawks have swept the Tri-City Americans to become Western Conference Champs for the second season in a row, and will begin their Final Round next weekend.
This season Joe has played 62 Games and has 17 Goals, 47 Assists, 99 PIMs and finished with a +6. Having a total of 64 Points in this season alone makes me more than excitied to see Joe return for Training Camp and some Pre-Season action. After this post season ends, it should mark Joe's 4th completed season to of Juniors, granting him eligibiitly into the AHL. I for one can not wait to see him wrecking havoc for the Wilkes-Barre/Scranton Penguins. There should definitly be changes coming down the line for WBS as Simon Despres, Brian Strait, and Robert Bortuzzo have all shown that they are more than ready for the NHL, leaving ample room for Marrow to slide right in.
Need another example of Joe's power? Check this out.
- Thanks to Seth Rorabaugh (@emptynetters) for finding this article.
He actually blew up a goalie mask! Now, I'm getting tingles.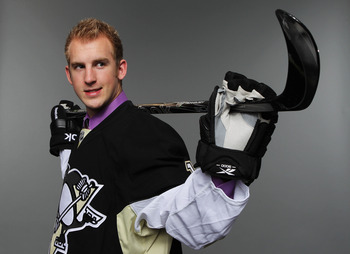 Trust him. Joe knows Hockey.